Top 5 Things that You Should Know About Visiting a Japanese Home
Have you ever visited a Japanese home?
By knowing our customs and etiquette, you can enjoy yourself and deepen your understanding of Japanese people.
Today, let me introduce the general custom and etiquette for visiting a Japanese home.

1. Taking off your shoes at the entrance
It is well known that Japanese people don't wear shoes at home.
Generally, the entrance has a lower space than the floor of the room.
This space is where you take off your shoes.
It is a regular etiquette to put your shoes together nice and neatly.
This not only makes it easier for you to wear your shoes when you return home but also looks neat and orderly.
Please avoid entering the room with bare feet. It's better to wear socks or stockings.
This is because you will bring dirt (sweat, smell, germs, etc.) of your feet to the host's house.
Generally, when you enter the living room from the entrance, you better say 「お邪魔します」 (ojyamashimasu) which Japanese always say this phrase.
In English, you can say, "Sorry to intrude."

2. Taking a present
There are few taboos in giving presents. Japanese norms are all about modesty and simplicity so it's better to bring something modest rather than a high-class item so that it won't burden the host.
For some reasons, Japanese people feel uneasy and awkward upon receiving highly expensive things that it somehow pressures us as of how to show our gratitude or how to give back.
For example, fruits, sweets, and wine, if the host can drink alcohol, are highly commendable as gifts.
If you bring flowers, avoid chrysanthemums.
This is because chrysanthemums are reminiscent of death. It is displayed at funeral halls and graves.
Moreover, some people may not open your presents on the spot.
The host may offer your gift to the Buddhist altar first. It's a gesture showing that we respect you and acknowledge your effort.
So please don't be disappointed if the host does not open your present in front of you.
On the other hand, when you get a present, it's okay to open it in front of the person. However, please do not rip the wrapping of the present roughly.
Most Japanese treat the packaging gently, including the bag or paper that wraps the present, as it also reflects respect and grace.

3. Enjoy eating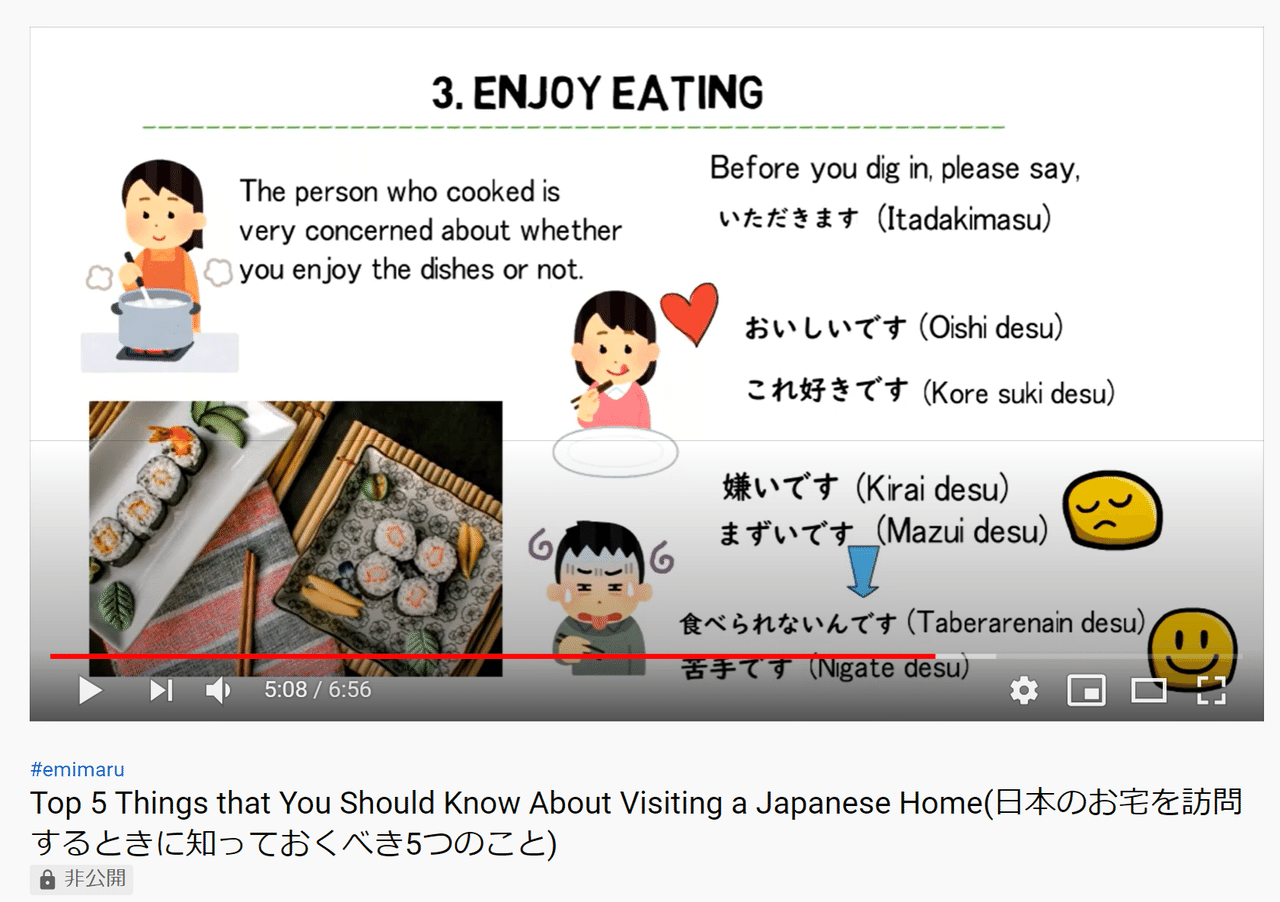 There may be rules specific to the household, such as how to use tableware and eating habits.
Let's look at the behavior of the people in the house and follow the rules.
The person who cooked is very concerned about whether you enjoy the dishes or not.
He or she may not look like it but the person is surely anticipating your reaction and comments about the food.
When they see you like it and how much you enjoy it, it greatly makes the person happy and proud.
This also encourages him or her to accommodate you better and livelier.
So before you dig in, please say, "Itadakimasu!" and while eating, occasionally say "Oishi-desu!"「おいしいです」 or "Koresuki-desu!"「これ好きです」.
In English, you can say, "Thank you for the food!" then you can say, "It's delicious!" or "I really like it!" while enjoying the food.
Having a foodgasm may appear too much for others but for Japanese people, it really gives us happiness in seeing you are enjoying the food we prepare so much.
Also, if you find something you dislike, you don't have to force yourself to eat it.
You may just focus and eat more of the dishes that you like instead since we prepare more than two or three dishes in a meal.
If you should voice out your comment, please be honest, but you should be careful about what you say.
Please be polite as much as possible.
Most Japanese don't like expressing directly.
Please avoid saying the words 「嫌いです」"dislike", 「まずいです」.
Because such terms are strongly received by Japanese people.
It's better to say, 「食べられないんです」" I'm afraid I can't eat,"「苦手です」 "I'm not too fond of it".

4. Don't make too much noise
If you drink a lot and get drunk, laugh or talk loudly, you may get complaints from nearby residents.
This is due to the housing situation in Japan, generally, Japanese houses are small.
In addition to the dense houses, many Japanese are sensitive to noise and are easily disturbed or stressed out by loud noises.
But this depends on the location.
If you go to the countryside, you can make noise to dance and sing overnight, it may be no problem, but unlike other countries, parties don't usually go until sunrise.

5. Be on time
It's good manners to arrive on time in almost every country, but Japan is a country with particularly stringent attention towards time.
It's not good to arrive at the promised time too early because the host may be busy preparing for things like cooking and cleaning up.
On the other hand, if you arrive too late, the host might worry that something bad has happened to you.
I've mentioned five things above.
But please remember, what your host wants from you the most/ is for you to have a good time.
I hope you have a nice time in a Japanese home!
日本のお宅を訪問するときに知っておくべき5つのこと
あなたは日本人の家を訪れたことはありますか?
習慣やマナーを覚えておけば、自分も楽しめますし、相手への理解も深まります。
今日は、お宅訪問に際しての一般的な習慣やマナーを紹介します。
あまり神経質にならずに楽しんで見てくださいね。

1.靴は玄関で脱ぎましょう
日本人が家の中で靴を履かないことはよく知られています。
一般的に日本の家の玄関には、部屋のフロアよりも低いスペースが設置されています。このスペースが靴を脱ぐ場所となります。
脱いだ靴はきちんと揃え、玄関の端に置くのが正式なマナーです。こうすれば帰る際に靴が履きやすくなますし、見た目も美しいです。
なお、素足で部屋に入るのは避けましょう。靴下かストッキングを履いてください。自分の足の汚れ(汗や匂い、雑菌)をその人の家に持って上がることになるからです。
一般的には玄関からリビングに入る際には「お邪魔します」と、あいさつをします。

2.ささやかな手土産を持参しよう
手土産にはほとんどタブーはありません。あまり高級なものよりも、ささやかなものの方が相手の負担にならず良いと思います。
例えば果物やお菓子、お花、相手がお酒を飲む人だったらワインなども喜ばれるでしょう。
お花を持っていく場合は、菊の花は避けましょう。菊は葬式会場やお墓に飾る花で死を連想させるからです。
あなたがプレゼントをもらった時ですが、プレゼントを包んでいる袋をビリビリと破かないでください。
日本人はプレゼントを包んでいる袋も含めて丁寧に扱います。
3.おいしく食べよう
食器の使い方や食事の習慣など、その家庭特有のルールがある場合もあります。
その家の人たちの振る舞いをチェックしつつ、ルールに従いましょう。

料理を作った人は、あなたがおいしいと感じているかとても気にしています。
「おいしい」「好き」などの言葉で表現してください。
また、あなたが嫌いな食材が出たら、無理して食べる必要はありません。
正直に伝えましょう。
ただ、言い方に気を付ける必要があります。
日本人はストレートな言い方が好きではないので、「嫌い」「まずい」「おいしくない」とは言わない方がいいでしょう。
「食べられないです」「苦手です」などと言えば理解してもらえるはずです。

4. あまり騒がないようにしよう
お酒を飲み過ぎて酔っ払ったり、大きな声で笑ったりしゃべったりしていると、近隣の住民から苦情が来ることもあります。
これは日本の住宅事情が原因なのですが、一般的に日本の家は狭いです。
住宅が密集している上に、多くの日本人は騒音には敏感です。
これは場所によるでしょう。田舎に行くとあなたが思いっきりダンスして朝まで騒いでも何も問題がないかもしれません。

5.時間を守る
おおよそどの国でも、時間通りに到着するのがマナーですが、日本は特に時間に厳しいお国柄です。
約束の時間より早すぎるのも、料理や片付けなどの準備に追われている可能性があるため、あまりよくありません。
逆に到着が遅れすぎると、何か良くないことが起こったのかとあなたのことを心配するでしょう。

以上5つのことをご紹介しましたが、ホストが一番望んでいることはあなたが楽しむことです。
素敵な時間を過ごしてくださいね。